For regularly-updated PINK STËËL bloggery, see:

(Subscribe)
-Udo's Daily AffirMETAL (Subscribe)

Und look! Here we are on Twitter!

*************************************

March 8, 2008

NEW PINK STEEL VIDEO: Converter!

Enjoy the latest bit of goodness from Out At The Devil, peoples: A video of PS's gay-mking anthem, Converter!

Danke to Ken Grobe for this bit of video goodness.

*************************************

October 31, 2007

INTRODUCING PLAYWITHYOURSTEEL.COM!

That's right, peoples! Eine brand new PINK STËËL Web site, just in time for All Hallows Eve!
Because we love our fans, und want to give you every chance at loving us, we have creted PLAYWITHYOURSTEEL.COM, our mash-up showcase! Show off your creativity using PINK STËËL's epic tunez! Create mashups! Videos! Machinima! Porn! Send it to us und we'll showcase it on PLAYWITHYOURSTEEL.COM!
Und to start you on your way:
-Free OUT AT THE DEVIL mashup tracks! Drum tracks, karaoke versions, guitar samples--everything you need to whip up a little PINK STËËL of your own!
Need a little incentive? How about:
-A free download of "Frodonator," everyone's favorite stick-it-to-Tolkein metal epic.
Who loves you on Halloween, peoples? PINK STËËL does!
*************************************
October 19, 2007
PINK STËËL ON WGN-TV CHICAGO AGAIN!
This actually happened back in July, not long before the release of OUT AT THE DEVIL...we ended up on the WGN TV Morning News again! Here you go:
As CURB YOUR ENTHUSIASM'S Jeff Garland said after following our first WGN appearance, "PINK STËËL--I love it! What's better than a sasuage party at seven in the morning?" What indeed, Jeff!
*************************************
September 9, 2007
PINK STËËL CLASSIC VIDEO CORNER
Ah, peoples, don't these just take you back?
1. PINK STËËL ON WGN-TV
From our appearance on the WGN-TV Chicago Morning News. Ach, we look so young.
Previously only available as a hidden video track from our first record, Enter The Pink!
(Hot new version of "We Fight For Cock" is available on Out At The Devil, you know.)
*************************************
August 25, 2007
OUT AT THE DEVIL: OUT UND PROUD!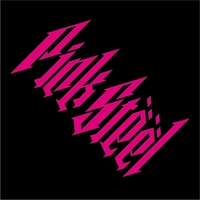 Heilige. Verdammte. Scheisse. It's finally done. Und you can find it in our Store (actual album), iTunes (digital downloads), or PayPlay (DRM-free downloads).
But while you are off buying the soon-to-be-hottest album of the summer, we're going to get sentimental on your asses.
Peoples, we started this particular road in August 2005, when the three of us (sans bassist Klaus) gathered in Pete Kohl's Beautyrock recording studio to take a crack at recording "Converter." The air conditioner was cranked full blast und it dripped condensation into a waste paper basket. But the drum kit was well-kept, und there were more guitars und amps than Zakk Wylde's rumpus room, so we went to town.
We finally left that town almost a year later with eight songs, four sketches, und one extra cut that we can't release because the Disney people would kill us in our sleep. On-the-fly arrangements, countless overdubs, six different guitars, more siren wails than a Shiite dance party, und lots, lots, LOTS of sweat.
There are many anecdotes that would either charm or bore the pants off you. Scripting out spanish banter to be yelled during "Cock Fight." Recruiting Beautyrock's rotating cast of tenants for group handclaps und boy yells. Taking apart Pete's drum kit piece by piece to create the Gary-Glitter-meets-Tusk marching band intro on "More to Love." Searching for days for that one Bob Welch song to show Pete the magically cheesy harpsichord sound we wanted for "Johnny, Are You Queer?" Und taking the G train home in the wee hours in 20 degree weather. Would we have traded it for anything? Ficken sie nein, weibchen.
Now, our labors are done, und the fruits...well you know where the fruits are, bless you. We hope you love our baby as much as we loved making it.
PINK STËËL: Making Rock & Roll scary for straight people again!
*************************************
July 9, 2007
OUT AT THE DEVIL JULY 11!
That's right, Peoples! Our hottest of all full-length releases, OUT AT THE DEVIL, will be hitting the streets in just a couple of days!
For a full dossier on the record and its fabulousness, see our MySpace Blog.
If you'd like to count down the Halfords until liftoff, visit Udo's Daily Affirmetal.
For the hottest PINK STËËL news & the occasional exclusive MP3 treat, join our Mailing List.
That's all for now peoples! What? Isn't that enough?
*************************************
April 13, 2007
BANGSPOTTING
People keep telling us that they have seen PINK STËËL drummer Helmüt Bang in some porn movie or another. Peoples, for the last und final time, Helmüt SWEARS that it is not him. He claims that he has a lookalike--a doppleBANGer, if you will--who is apparently one busy beaver!
Here are a few of the "films" that our Helmüt insists he is not in:
Polishing Helmüt
Where's My Drumstick?
The Many Positions of Shmelmüt Shmang
The Drummer Inside Me
Indiana Bones and the Ass Crusade
Bent Like Beckham's
Backstage Germans Vol. 16
Who Wants Schnitzel?
The Last Bang
The First Bang
The Second Bang (etc.)
Falcon Video Collection #67: Mystery Drummers
300 Spartans and Helmüt Bang
Smurfs and the Magic Flute (If by Flute You Mean Helmüt Bang and by Smurfs You Mean Some Drunk Roadies)
The Real Helmüt Bang--No, Seriously, Doing It and Everything
On second thought, it must be a doppleBANGer. Helmut wouldn't work that hard.
*************************************
March 29, 2007
"OUT AT THE DEVIL" PREVIEW
In case you haven't heard, peoples, the new full-length PINK STËËL album, OUT AT THE DEVIL, is almost upon us! here are some lovely teasy sort of things about it:
Cover art: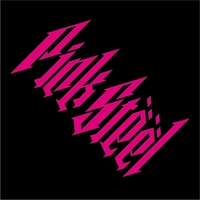 Track listings (click links for MP3 teasers!):

Sausage Party
Derek and Steve
Converter
I'm Coming Out (All Over You)
Hanson & Udo I
Frodonator
Johnny, Are You Queer?
Cockfight
Hanson & Udo II
More to Love
We Fight For Cock
Hanson & Udo III

Perhaps there are songs even live-hard PINK STËËL fans do not recognize? Good! We live to surprise you. Und to get some. Both.

Credits:

This record was produced by Pete Kohl at Beautyrock Recordings, und mastered by Steve Fallone at Sterling Sound.

Why is this important? Because Pete is the terribly gorgeous Losers Lounge legend und talented mastermind producer of albums for Double Dong & Wyld Lyxx und the Wau Wau Sisters. Und Steve Fallone? Oh, he is just a guy who has mastered records for TV On the Radio, Built to Spill, Rainbow, und also...wait for it...SCORPIONS. THAT'S all.

So peoples, get ready for some gay metal religion time! Und haters, once again please feel free to SUCK IT!

Oh, und don't forget to load up on OUT AT THE DEVIL free ringtones und read UDO'S DAILY AFFIRMETAL!

*************************************

November 7, 2006

CMJ 2006 PEOPLES! PART ONE

panel about how bands get their songs on TV shows. PS guitarist Udo Von DuYu was in attendence, along with sixty or so boring people who really wanted to "make it in music."

The panel itself featured a fairly important band manager, a pretty important label head, an important record company VP, a chill music supervisor from Current, a very serious panel moderator, und a VERY important TV executive.

Like Udo's not going take it to them.

Udo showed up in full fabulous FIERCE PINK STËËL fashion und was promptly glared at by the audience und ignored by the panelists.

Until Q & A time. When our nice moderator lady eventually called on "The guy in the Tiara."

Udo stood straight--well, right up, with expert posture, so everyone could see his outfit and superior use of hair products. The next two minutes sounded something like this:

UDO: Hi everyone. I am Udo Von DuYu, I am in a gay heavy metal band called Pink Steel, und we are playing Friday at 11 O'clock at the Pussycat Lounge-

MODERATOR: Please ask your question.

UDO: Oh, sure. How much does lyrical content play a part in the songs you choose for your TV shows?

Silence. Like several solid seconds of silence. Finally, the Very Important TV Executive, who was surprisingly nice und quite brave, spoke up:

VERY IMPORTANT TV EXECUTIVE: Um...well, yes, lyrics are important for...we can't use profanity...that's what you're asking, right? The songs can't have profanity.

UDO: Oh. Because we have songs like "We Fight for Cock," und "Cockfight"...

Und the audience absolutely lost their scheisse. When the laughter died down, Udo politely ceded the floor to another question, und the panel went on as it should.

So that was fun.

Then there was the Metal panel where Udo almost got his ass kicked.

More on that in Part Two. Whenever we get to that.

*************************************

September 24, 2006

BIG PINK STËËL SHOW

Sin-e, Friday October 6, 11PM. More details soon. You won't want to miss this one, peoples.

*************************************

September 23 , 2006

NEW ALBUM TEASERS UND RINGTONES!

Peoples, you have probably heard it through the gaypvine that the album is almost upon us. OUT AT THE DEVIL. The first full-length PINK STËËL release. Hotter than a Mexican schnitzel.

It's been over a year of dubs, overdubs, solos, duets, takes und retakes. But all the time und effort is so worth it. Oh, peoples, if you could hear the tracks. Oh, if only.

You know what? Why the hell not? Why not post some tease-y samples of the wonderment for your satisfaction?

Our Loads section has teaser samples of four tunes from the new record. Begin salivating now!

UND, to help promote the record, we also have FREE RING TONES from the record. Stuff like this usually costs two or three dollors PER DOWNLOAD. But not with PINK STËËL. FREE. RING. TONES. That is how much we love you!

*************************************

September 12, 2006

UDO'S DAILY AFFIRMETAL!

Peoples. Are you adrift in a world of uncertainty und sexual uncertainty? Do you wonder if you perhaps have not reached your potential for hardness? Now more than ever, PINK STËËL is here to lend a masterful hand.

Your favorite ultrasexy Bremen-born shred-diva, Udo Von Düyü, has struck a deal with new blog network Vox.com to create Udo's Daily AffirMETAL.

Seek it out for inspiration, validation, und possibly the occasional Lemmy reference. Und you know, maybe a chuckle. That number again? dailyaffirmetal.com!

Udo's Daily AffirMETAL! So easy to remember! So hard to forget!

Udo's Daily AffirMETAL! Sensual, but not too far from innocence.

Udo's Daily AffirMETAL! Wear it und be wonderful. Okay, enough.

*************************************

July 16 , 2006

PINK STËËL on iTUNES!

Four absolutely vorzüglich tunes to choose from, kiddies! All from our last epic CD, Enter the Pink. Just click here to go to our special corner of the iTunes store! You are impressed!

*************************************

May 18 , 2006

HE WISHES.

We are just needing to set something strai--er, correct here.

Despite certain resemblances, PINK STËËL drummer Helmut Bang is NOT the same Helmut Bang who plays "Manservant #2" in that new porn movie The Constant Hardener.

So back off, Adult Video News! You have the wrong boy.

*************************************

March 20, 2006

FOR THE KINDER

Well, peoples, you have probably noticed by now that PINK STËËL is not playing the South By Southwest festival. Hanson has only just noticed, because his case of cough syrup came late this week.

Und while we were crying our hastily-put-on-eyes out over being passed over for less deserving bands (*cough* Metallagher *cough*), we recently received an e-mail from a new MySpace pal who made us re-weep with happiness:

From: FatGirlPantiez Date: Mar 14, 2006 2:44 PM

Subject: 2 sausage party lovin' girls

Body: How twisted is it that my 3 year old daughter and I LOVE Sausage Party!!!! You guys are hilarious! Thanks for the insanity! Jyl & Lucia

ALL HAIL ROB HALFORD!!!!

Awww! Danke, Jyllie! That's right peoples! Moms und babies LOVE PINK STËËL! So suck it Belle und Sebastian!

*************************************

February 26, 2006

BRAGS!

BRAG #1: On the day of our fabelhaft show with The Hazzards und God's Pottery, highly-respected free-daily-newsrag AM NY gave the STËËL it's highest reccomendation und a gorgeous full-color photo. Click here to download the clipping und add to your Pink-steel-getting-mad-props scrapbook!

BRAG #2: We have also heard through the grapevine that PINK STËËL is ein big favie at legendary New York radio station WFMU! Hi Brian! When can we do ein live set up in there?

*************************************

February 21, 2006

PARLEZ VOUS COCK?

Behold the power of the Internets, peoples! A French website called--get this--METALGAYS has site-checked us into its ongoing survey of all that is gay und metal. Pretty much ein nein-brainer, nicht wahr?

Now, girls, we were a little umsturz that they had taken so much of our site content--until we realized that they had translated our bio und the lyrics from "Converter" into French! How phantastisch is that?

Check it out if you have a chance, if only to brush up on your French gay metal pick-up lines. Ton hétérosexualité va commencer à partir!

(Insert your own German-invasion-of-France-as-gay-sex-metaphor joke here.)

*************************************

January 22, 2006

VILLAGE, PEOPLE!

Our upcoming SUPERBOWL OF HEAVY METAL show this Friday the 27th is a Village Voice Hot Ass Pick, peoples! Check us out if you think we are lying!

*************************************

January 7, 2006

WIKI WIKI SCRATCH!

Glückliches äu§erst fröhliches Neujahr, peoples!

Hm. Now we are just checking...has your band been mentioned in the oft-praised-in-year-end-best-of-coverage Wikipedia?

No? Well, I guess you'd better go suck it then.

GOOD TIMES!





(PS Okay it is possible that your band is mentioned in the article-especially if your band has ein umlaut in its name. But how likely is that?)

(PPS Und also, sometimes you just have to tell everyone to suck it.)

(PPPS Don't forget, the Superbowl of Heavy Metal is just around the corner!)

*************************************

October 23, 2005

AGAIN WITH THE DOINGS!

Peoples, oh peoples. We know you want the STËËL. Und it pains us to not give you the daily recommended helpings of STËËL you richly deserve. But we're working on ourselves right now.

Und by working on ourselves, we mean--well, that too, but also that PINK STËËL is in the studio recording their someday-massive (knock wood) ALBUM! That's right peoples! Hanson Udo Helmut are cloistered deep beneath the earth at Beautyrock Recodings under the tender knob-twisting of studio ubermench Pete Kohl. Belive us when we say he knows what a girl needs--especially when she needs reverb! Und foxy? Please. We'd Royce his Peterson any day of the week. More cowbell Pete!

*************************************

October 22, 2005

DON'T STICK IT THERE!

Prepare for sticker shock! More photos from fans who have stuck their PINK STEEL stickers in curious places. Hit our FLICKR photo pageant to see where!
*************************************
October 11, 2005
A JOKE.
Q: What do you call a gay hairy 300 pound German rubber fetishist?

A: A Gummi Bear!

Courtesy of Ambrosio's BDSM site. Honey, you are the Texas bear of our dreams.
*************************************
August 25, 2005
FLICKR? I AM NOT EVEN ATTRACTED TO HER!
Well, peoples, it didn't have to happen, but it did. Our beloved fans in the PINK STËËL NAVY sent us so many cool photos of places they stuck their PINK STËËL stickers that we had to show their illegal doings to all of yous! Und no thanks to a certain singer's pre-waxing vicodin binges (oh, like you just grit your teeth or something), we are a little short on funds...but enter Flickr to save us with their free hot photo action!
Want to see the best of our fan tags? Visit our Flickr photo pageant today!
*************************************

August 10, 2005

DANKE, SCREENHEAD!

Crazy mannish love to the props from GAWKER-spawn ungezogen Screenhead for their shout-out to the STËËL. Und hey, it is better than no head at all! Not that we would know. Vielen vielen dank, Dong Resin!

*************************************

July 31, 2005

GLÜCKLICHER GEBURTSTAG ZU MIR!

...which, for you few non-German speakers out there, means "happy birthday to me." Peoples, if you've never been to a gay German heavy metal birthday party, you probably still have all your teeth und your remaining virginity--und for this we pity you!

We will put up pictures as soon as Helmüt Bang finishes his "Photoshop for Drummers" book...but as you might expect, it was of the ruling type. We did an extra-long show, hauling out old Hinterbackenklumpen like "Ass Smackin'" und "The Perfect Bassist" und playing them as if they were new again.

Und let's not forget the presents: From Helmut, a lovely german poem about Udo's best und most crooked feature. From Hanson, an monumental EBay find: CC Deville's actually used love-sock! With stuff still in! Und also an "Amsterdam Ken" doll, finally completing Udo's Kens Of All Nations collection. The things that you missed!

Und of course a tasty erotic cake from our fave LES bakery, Sugar Sweet Sunshine, topped with a puckishly erect Udo rendered in icing! Oh peoples, please stop kicking yourself. We had a fine time without you.

Crazy props to those hot, property-damaging Shark Show boys for making the birthday even more special, especially other birthday boy Danny Gaba for his moving american love monologue to us! We love him so. Why Hanson hasn't hit that yet is a gay metal mystery.

*************************************

July 14, 2005

WE BEAT THE BURG!

No, sweet peoples, this is not one of your disgusting euphemisms (or even one of OUR disgusting euphemisms!)...it simply means that for the first time since Gaytan knows when, we won over a Williamsburg, Brooklyn crowd! Hecks, we did more that that--we haben sie verlassen zu betteln, uns mŸndliches Geschlecht zu geben, if you know what we mean! Ach!

You see, meine freunde, hipster dumping grounds like the 'burg and classy jernts like Galapagos are good for many things, but gay German metal often drops a ways down the usual hipster zeitplan, beneath, say, shopping at the local American Apparel und sneering.

NOT, however, last Monday! Peoples, we haven't worked that hard since our last voluteer bathhouse fumigation. But we won! A few well-received cracks at Helmut Bang's expense, plenty of Hanson Jobb siren wails, und the hardest rocking that former mayonnaise factory has ever seen! We crawled off that stage leaving them blogging for more! Glüünsche to us! HA HA HA hipsters! You love us now! Give us your lunch money und your RAZR phones schnell!

*************************************

July 11, 2005

PRIDE? YES. SHAME? NO.

Peoples, for those of you who didn't attend PINK STËËL's special NYC Gay Pride Week return to the Parkside Lounge, well you just plain missed out: missed out on the best-kept secret of Pride Week, missed out on Helmut Bang showing off his lilly-white calves, missed out on STËËL at top form...but more than anything, you missed out on the first und possibly only mosh pit in Parkside history. That's right, jungen! Tables were toppled und esel were shaking! That's what happens when you bust out "We Fight For Cock" for a sweaty room full of foxy drunken comics, hot questioning males, a sexy lesbian birthday party, a stud in an "I FUCKED ANNE COULTER" T-shirt, und absolutely no one from Udo's day job! Missed. Out.

After the show was much drinking und marrying--sorry, merry-making--with the adorable und awesome Ari, Dan und Ryan from The Shark Show! Did you see Ari wearing his PINK STËËL T-shirt on one of his copious VH1 appearances (the So Awesomely Canadian one, we're told)? Also big ups to fave FOPS in attendence Rachel Kramer Bussel (who reviewed the show on her blog) und birthday gal GirlyNYC!

Our next show? SMUT at Galapagos in Williamsburg, Brooklyn, tonight! Please come to protect us from all those hipsters und their irony.

*************************************

May 12, 2005

NOW APPEARING ON MYSPACE!

Yes, peoples, it's true. PINK STËËL has decided to cash in on the post-cool MySpace community by placing ein squat spot at myspace.com/pinksteel. Want to hear hot-ass PS audio for FREE und see pictures of shirtless straight boys? Visit often!

Und frankly, any tips on how best to use the furshlugginer site would be helpful. We're new girls in town.

*************************************

May 4, 2005

PINK STËËL SECRETS REVEALED!

Peoples, STËËL has been holding out on you. We all but disappeared from the scene in recent months without even a "Gehen Sie fickt sich"! To paraphrase the hundreds of e-mails und naked pictures we have received, what gives?

Well, peoples, now it can be told...mostly because we were too drunk to tell you before! We have spent the last five months on an extra-sexy European bathhouse tour! All the hot spots were hit (und by hot spots we mean those areas on Hanson Jobb's fahrwerk that he needs ein hand mirror to find)!

Curious where we went? Now that the booze-und-amyl-haze has cleared, so are we! Let's go to the Shows section together und look, shall we?

*************************************

April 7, 2005

EIN "UGLY" LETTER!

Dearest Navy-

It looks like sometimes STËËL hurts feelings.

We recently received an e-mail from Rob Gorden of New York City, who did not appreciate to our comment about how the 2004 ECNY awards nominees were great for scoping ugly, ugly men. Rob writes:

Boys,

I came across your web site and was curious on your thoughts
regarding the ECNY awards. At first I was offended by your
ugly guys at the awards show comment. As I am a cast
member of Giant Tuesday Night of Amazing Inventions
and Also There is a Game and consider myself moderately
cute and was at the awards ceremony...

Rob then sent us a photo to prove that he is in fact sufficiently bezaubernd.


Eh. He doesn't do anything for PINK STËËL. Er ist nicht hairy enough für Hanson or meaty enough für Udo, und Helmut says his hands look too soft.

But what do YOU, our beloved Navy think? Would you DO him or SHOO him? Send us an e-mail und let us know!

dohim@pinksteel.org
shoohim@pinksteel.org

Und why don't you boys send us more photos? Do you think we rock only for our health?

*************************************

April 3, 2005

GAYLORD COMES WITH A BONE OF HIS OWN!

Tee hee. Danke, gay double entendre Jesus!

*************************************

September 1, 2004

RUMORS (UND NOT THE HOT NAILING-LINDSEY-BUCKINGHAM KIND)

Okay, dishmongers...let's clear the clove-cigarette-und-CK1-ridden air. We have heard the nasty rumors too, und it's time to destroy them once und for all!

Drummer Helmut Bang is NOT leaving PINK STËËL to play in a Small Faces tribute band called the Rod Stewards. OK?

Now everyone feels better.

*************************************

July 16, 2004

SUMMER LOVIN'!

Dear Nobody Reads This Anyway,

What a summer it has been! New experiences, new friends...ya, we are so glad we stayed in New York City instead of wasting money on that three-bedroom Fire Island rental with the sex deck.

But do we complain? Of course not.

The ECNY awards were not a complete bust. There is nothing like a comedy awards show for scoping ugly men. Und the nominees' list was a handy way to find out what played at the UCB Theater last year (rowrr!). But for PINK STËËL, it was where we discovered our new best friends, The Hazzards! Not only are Sydney und Anne adorable, effervescent, und hilarious, but boy can they put away the hooch! After some judge's best friends won Best Musical Act (double rowrr!), our new clique bailed the awards und got its collective drink on elsewhere, swapping dish und wig-care tips long into the night. Meanwhile the other nominees went home to masturbate und cry.

(Other new ECNY best friends: ass-beating standup/graphic designer Yvonne Mojica und the all-woman juggernaut of heat that is Meat!)

Our Joe's Pub show was, as expected, THE heavy metal Gay Pride blowout to be seen at for 2004! We were Open Wide For Pride right down to our hides with the crowd at our side for one heck of a ride! Our two newest songs, "Cock Fight" und "Converter," went over like nobody's business! Und as usual, our audience, which included luminaries from The Isotoners und our beloved Hazzards, enjoyed the free glow-sticks und cookies! Truly, the Pub was rocked as it has rarely been rocked before! Take that, "Jackie Hoffman: The Kvetching Continues!"

Then, just last Saturday, we had a super time at The Parkside Lounge, for a blissfully turgid double-header: a headlining gig und an early appearance at the Shark Show Battle of the Funny Bands. Big ups to our our new Britney-stalking friends Mo Matching Drapes! Und shout-outs to our platonic pals at The Shark Show und Battle finalists God's Pottery und Evan something.

*************************************

June 14, 2004

PINK STËËL IN HX MAGAZINE!

Oh, yes, peoples! Weekly gay NYC nightlife bible HX magazine gives the Bad Boys from Bremen a lascivious double-page spread in their latest issue (dated June 18--"Pride Music Issue")! We are on pages 24 und 25, sandwiched between the mighty RuPaul und that cute married couple Rosie und Kelly. Thanks to uberjournalist Lawrence Ferber for the interview! Pick it up before next week's issue hits the stands! Und go here to read it on the Web!

Oh, und contrary to rumor, PINK STËËL will not be performing at the ECNY awards June 17.

But we WILL be rocking your jellies off at our blowout OPEN WIDE FOR PRIDE EXTRAVAGANZA at Joe's Pub June 23! Und this just in--we will debut two new songs! See our Shows page for all the hot details!

*************************************

May 20, 2004

SHAMELESS PLUG FOR ROCK SHOW

Hello, friends. If you, like PINK STËËL, have a penchant for theater und rock, you will enjoy ROCK SHOW. Masterminded in part by FOPS (Friend Of Pink Steel) Chris "Red Menace" Blisset, it is story of a fictional struggling rock band, how they deal with each other, und in between they play the rock. Basically it is ein real-time BEHIND THE MUSIC acted out in front you live! If you enjoy straight people having drama und then going out und rocking you, you will love ROCK SHOW.

ROCK SHOW is playing for two more weeks at the Kraine Theater in New York's East Village. Go to the site for more details--und tell them PINK STËËL sent you!

*************************************

May 17, 2004

KNITTING FACTORY SHOW CANCELLED!

That's right, peoples. Apparently they went way over quota with the recent Night of 1,000 Stevies event und now can't have any gay acts until Jauary 2005. Just kidding. But due to a fault-less crossing of wires, the fact remains that the STËËL nor our raging partners in crime Velvet Mafia will be gaying up the Knit this June 4. Hopefully one day soon, as we love that space. Schiesse.

But don't forget that Hanson und Udo will be participating in a big ol' Freddie Mercury/Elton John tribute show at BB King's on May 25! Und start saving your pennies und stamina for our full-blast heisser-als-hölle June 23 Joe's Pub show! See Shows for more info!

*************************************

May 10, 2004

SHOW YOUR LOVE FOR STËËL!

Happy post-Mothers-Day-recovery, peoples! If you think your mother's day was ein bitch, imagine your cel phone dying und having to place an international call to Bremen from a pay phone outside an illegal tenth-avenue bath house! You people don't know from inconvenience.

But you do know how to love your beloved PINK STËËL! Here are some soppy samples of the liebende beweihräucherung we are receiving from you these days:

1. We have been nominated for an award! The young-but-wise ECNY (Emerging Comics of New York) awards have nominated PINK STËËL as Best Musical Act! We are overjoyed from the love--but require your assistance! Please help us in our sexy voting campaign by going to the ballot site, scrolling down 1/3 of the page, und voting for us!

2. We have been featured in INSTINCT magazine! That's right, peoples! The hottest national gay monthly around has blown some heat our way, courtesy of triple-sexy journalista Camper "All the bitch you can eat" English! At least, that is what he tells us...apparently our article und huge photo was in the March 2004 issue und nobody told us!!! Wo ist die liebe, peoples?

3. Perhaps it is in Sydney, Australia, where Radio FBi 94.5 has been playing us on their Thursday night show "Let's All Turn On" (named after one of our favorite Hoodoo Gurus songs!)! There it is--"We Fight For Cock" in the playlist, between Andrew W.K. und Courtney Love! This also explains why we are starting to recieive CD orders from Oz as well...und we don't mean the prison (unfortunately).

We also have a new gig to clue you in on...a QUEEN tribute show that Hanson und Üdo are lending their hot throats to! See our Shows page for more details soon!

*************************************

April 9, 2004

ATTACK OF THE FIERCE NEW GIGS!

Three new shows, peoples! A special semi-acoustic set at the Gay & Lesbian
Comedy Festival, an opening slot at the Knitting Factory for Velvet Mafia, und
a shiny, hard new Joe's Pub show smack dab in the middle of Pride week!

Come on, peoples! Is PINK STËËL the most ecclectic gay metal band you
have ever loved, or what? See our Shows listings for more info!

*************************************

April 8, 2004

NEW STUFF

By the way...you did notice the hot new fun our Pit of Gayness has to offer? Yes, we knew you did. We were just checking.

*************************************

April 5, 2004

SO MUCH DOINGS!

Dear Diary--where to begin! So much has happened!

First of all, our Feb 11 show at Joe's Pub was eselficken AMAZING! Could it have been the best PINK STËËL show ever? You can be the judge--if you were one of the capacity-crowd audience, that is! If so, then did you feel:

(a) fortunate to be seeing your beloved PINK STËËL rock out--complete with now-not-so-new-but-still-beloved-drummer Helmut Bang--harder than perhaps ever before?

(b) satiated with the free valentine cookies, candies, und glow-sticks, none of which you hesitated to throw at the band during "We Fight For Cock"?

(c) grateful for the opportunity to sit in one of NYC's most exclusive concert venues und hurl delightfully blue epithets at the three sexiest bastards in gay metal?

(d) pathetic und sad, for you did not attend the show...but will attone for this by coming to PINK STËËL's next Joe's Pub show, Wednesday June 23!

Second of all, did you attend our April 1 Parkside Lounge show, "Songs in the Key of Fool"? If so, we are sorry--sorry for the mics cutting out, sorry for booking a triangle player as our opening act...but but mostly sorry for making you sit through that and more to see the sexy-plus Magic Brian do his sexy sex magic that is sexy! You can see it here. PINK STËËL would drink his lumberjack juice any day!

Third of all, we love our Chicago fest buddies TROOP! for showing LA how sketch comedy is supposed to be done. Und for putting us on their favorite links page. More people should do both of those things.

Fourth of all, many thanks to futurist pulp geek lord Warren Ellis for showcasing PINK STEEL on his Die Puny Humans weblog last month! Sadly, his site crashed within days of his posting our faces und our "We Fight For Cock" MP3. Coincidence? Fortunately, it is back up now, und continuing to broadcast lovely frightening things.

Fifthly of all, Did you see our mention in the NY Blade's March 5th Nite Life column, written by NYC erotica legend und gal-about-town Rachel Kramer Bussel? Of course you did.

*************************************

February 1, 2004

FABULOUS TV STARS!

Quick Chicago recap: cold as eselficken hell. Slightly longer recap: We were on TV und had a fabulous time at Chicago Sketchfest--und cold as eselficken hell. Your beloved PINK STËËL braved brass-monkey temperatures to accept the kind invitation to rock the nation's largest sketch comedy festival--und make an incendiary appearance on Chicago's #1 morning news show!

Our adventure started Friday morning, by making it to WGN studios by 6 AM on two hours sleep (thanks a lot, winter und airports!). WGN treated us like true celebs, with our own dressing room, our own studio(!), und the opportunity to meet the world's oldest organ grinder monkey, the delightful 34-year-old Chico. WGN had us do two bumper spots, a short interview, und "Sausage Party", all just before 8 AM (look for these soon in our LOADS section). We also met CURB YOUR ENTHUSIASM's Jeff Garlin, who big-upped us in his own interview segment, saying "Pink Steel...I love it! What's better than a sausage party at eight in the morning?" We also love you, Jeff!

Then, on to Chicago Sketchfest for two gibraltar-hard shows! What was not to love? A big theater stage to run around on, vibrant hosts Brian und Jill, a tearful reunion with our pals the so-funny-they're-evil two-man juggernaut Superpunk, und barnfulls of hot sketch boys! Ah, sketch boys...laugh at their jokes and they're yours for the night...but they only last five minutes.

Currently circling our wagons in preparation for a blowout Feb. 11 Valentine's show at Joe's Pub! If you live in New York, you are expected to attend...unless, of course, you have something against love? (In which case you may like it even more!)

*************************************